I briefly mentioned in my previous blog that we moved in June as we were out growing out first home. We have moved into a 3 bed bungalow that we are in the process of renovating, well more like just started renovating.
Before we moved Tommy and i decided that when our new property is more of a home and less like a mini building site, we really want to add more life into the place with the help of indoor plants.
Im sure were not the only couple who when the British weather is living up to its reputation and when stuck for ideas of things to do on a Sunday, end up dragging ourselves round shops like The range, Dunelm, and B & Q looking at things we want, need, or simply can't afford.
Last Sunday was one of those days for us and we found ourselves in Homebase having a browse and stumbled upon a little sale. We found some great plant pots and a beautiful plant, so I wanted to share them with you while you can still go out and grab them if they are your cup of tea.
I am in love with hanging plants right now and so when I spotted these beauts I was very excited, and for only £2.50 each you cant go wrong.
Ok so they don't look much on their own but just imagine they were filled with a very pretty hanging plant like the one below.
We got another set of little plant pots and liked these because they were kind of different and Tommy fancied them in the new kitchen.
These were a bargain at just £1 each. I would like to fill these with some pretty white Peace Lily's.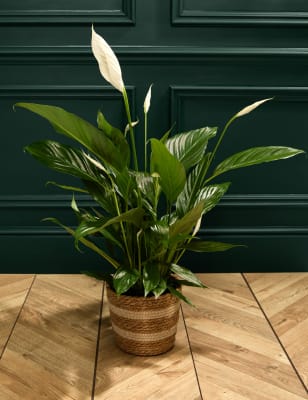 The last plant pot we got was a bigger white one for the plant we also brought! We have wanted one of these plants for ages and kept telling ourselves we will wait until we are in the house and making progress, however we just couldn't resist getting it this time round.

This was also on sale for £8.99 from £14.99 I think.
As you can see we haven't planted this Yucca into the pot properly yet, however you can appreciate the look we are going for.
I am so happy with all our new plants and think it's a great start to our new collection. If you have any recommendations for pretty low maintenance indoor plants, send them my way please.
Much loveage Loz x